At Inclusive Alliance, one of our favorite things about the holidays is the food! We wanted to share some great recipes for sauces you can use to spice up your dishes this holiday season. Check out our blog post for some great ideas to add to your holiday menus.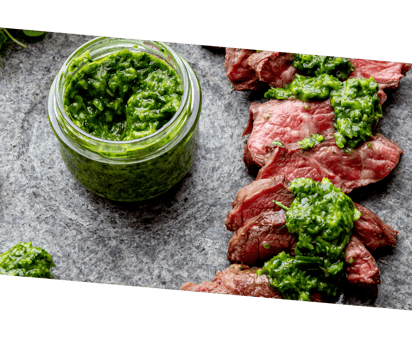 Chimichurri
Use on: any protein or vegetables!
1C fresh flat-leaf parsley leaves (picked from the stem, no stems allowed)
¾C fresh cilantro leaves (see above)
¼C fresh oregano leaves (one more time)
¼C red wine vinegar
6x cloves garlic, peeled and smashed
½ jalapeño, stemmed and rough chopped
Kosher salt & white pepper to taste
½C plus 2T extra virgin olive oil (grapeseed or avocado oil would also be good here)
Pick all the herbs from their stems. The stems contain an incredible amount of water that will dilute the flavor AND contribute to the loss of their beautiful green color.
Slice the stem end from jalapeño and slice lengthwise. You can control the (spice)heat of your final product by not only removing the seeds but also by trimming back the white/lighter ribs from the inside of the pepper. More heat => don't trim the inside Less heat => flatten the pepper strips with the skin side down and make a horizontal cut to remove the offending pith.
Combine the pepper, garlic, and vinegar into a blender and thoroughly puree. Slowly add the oil while running the blender on low to med-low speed to emulsify. Place the pitcher from the blender (leaving this in there) in the fridge for 2-3 hours. Heat is the enemy of chlorophyl so getting not only the mixture but the vessel cold will help keep the beautiful green color of the herbs.
Return the pitcher to the blender base and fully incorporate your herbs until you have an even mixture, then adjust to your taste with salt and white pepper (black can be used if white pepper is not part of your pantry).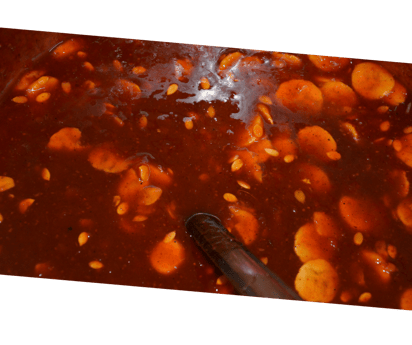 Tamarind Chutney
Use on: pork, poultry, beef, cheese plate, sweet potatoes
4oz piece of tamarind pulp
3/4C hot water
1/4C packed jaggery date sugar (or dark brown sugar)
t coriander seeds, toasted and ground
t cumin seeds, toasted and ground
t anise seeds, toasted and ground
1/2t hot chili powder
1/2t Kosher salt
mash tamarind into the hot water to soften pulp. force through a sieve/strainer with a rubber spat or back of a large spoon into 2-3qt saucepan, pressing hard and discarding seeds and thick fibers
add sugar, cook over low heat until completely dissolved then stir in spices, chili powder and salt. Let set for a few hours in the fridge (or overnight) to set and thicken.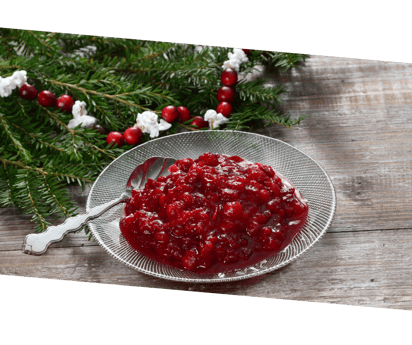 Cherry/Cranberry Compote
Use on: cheese plates, as a side dish, dessert topping

3/4C dried sour cherries (3.75oz)
3/4C dried cranberries (2oz)
1.5C water
1/3C sugar
1/8t almond extract
lemon juice to taste
Simmer cherries, cranberries, water and sugar in a heavy bottom pan over med heat until fruit has softened, and liquid has thickened (10-20 mins)
Remove from heat, stir in almond extract and season w lemon juice. cool to room temp before serving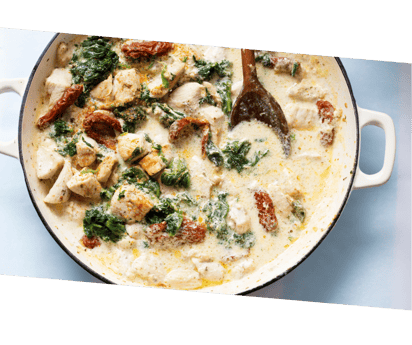 Parmesan & Sage Sauce
Use on: pasta, poultry
1/2C grated Parmigiano-Reggiano
C half and half
2x egg yolks, whisked
4x large sage leaves + 2t fine chopped sage
1/4t Kosher salt
1/2t black pepper
Bring sage leaves and half and half to just a simmer in a heavy saucepan. remove from heat and steep, covered, for 10 mins. remove sage, squeezing to extract any liquid, and discard
Whisk 1/4C of the hot half and half into the bowl containing your whisked/combined yolks. Slowly whisk in the half and half/yolks mixture into saucepan with your remaining half and half and return med low heat, stirring constantly with a wooden spoon or rubber spatula, until sauce thickens and registers 170 to 175 degrees (if you don't have a thermometer, you are looking for ripple created by stirring to not immediately close up behind your stirring implement, should be ~4 mins).
Immediately pour through chinois, add cheese, and continue stirring until it has completely melted. add chopped sage and then season w salt and black pepper (feel free to adjust the pepper to your taste)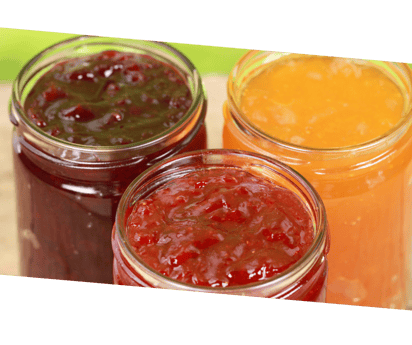 Pink Grapefruit Marmalade
Use on: Holiday breakfast, toast, pancakes, waffles, dessert, cookies
medium pink grapefruit, washed w hot water (from your faucet, no need to boil anything) and halved crosswise
5-7 leaves fresh rosemary, optional
2.5C turbinado sugar (white cane sugar will also do)
lemon, juiced
Squeeze grapefruit through a strainer into a bowl, cover and refrigerate. remove seeds from strainer and your juiced halves and tie up in an herb sachet (small envelope of cheese cloth or coffee filter bound with kitchen twine) with rosemary (if using)
Scoop out pulp and membrane w metal spoon, leaving white pith attached to peel. halve each half and cut into 1/4" thick strips
Put peels, seed/herb sachet and 3 1/3 C cold water into a wide/heavy pot. place a small plate over peels to keep them submerged. let soak @ room temp for 4-12 hours (obviously 12 is best)
bring pot to simmer over med low heat and cook until peels are soft (~25 mins). add sugar, lemon juice and reserved grapefruit juice and whisk to combine. bring to boil over high heat, continually whisking/stirring. drop heat to med or med low to maintain a gentle simmer and cook until peels are translucent, jam thickens and temp registers 212-214 (~40 mins) stirring frequently. If you don't have a thermometer place a plate in the fridge when you begin this step. Using a spoon, periodically check the viscosity of your marmalade by taking the plate out of the fridge and adding a small amount of the liquid to it.
Remove from heat, discard sachet, and spoon hot marmalade into 2 sterilized, 1/2 pint canning jars. let cool, then cover and store in cooler up to 4 weeks.
As a Bonus- we're also going to share this fun Mocktail Recipe!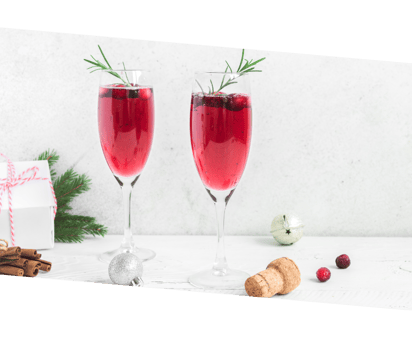 Orange Cranberry Mocktail
Option to add your favorite adult liquor or sparkling wine
Orange slice and sugar: to sugar the rim of your glass
Orange juice: freshly squeezed is best
Sweetened cranberry juice
Sparkling apple cider: we like Martinelli's
Garnishes: fresh cranberries, cinnamon stick, and rosemary sprig
Ground cinnamon: just a tiny pinch
First things first, you'll want some champagne glasses or small cocktail glasses. Let's use the fancy ones, it's the holidays!
To sugar the rim, pour some white sugar onto a small plate so that it's at least ⅛" deep. Spread it out to a bit wider than the rim of your glass. Wet the rim of your glass with a slice of fresh orange and make sure there is some juice on it. With your champagne glass upside down, dip the rim into the sugar and turn the glass a bit to make sure you get the rim coated in sugar.
Avoiding the sugared rim, pour in the orange juice, cranberry juice, and sparkling apple cider.
Garnish with fresh cranberries, a cinnamon stick, and a rosemary stick for garnish. If you can fit an orange wedge in there that would be pretty too!
Sprinkle a tiny pinch of ground cinnamon on the top.