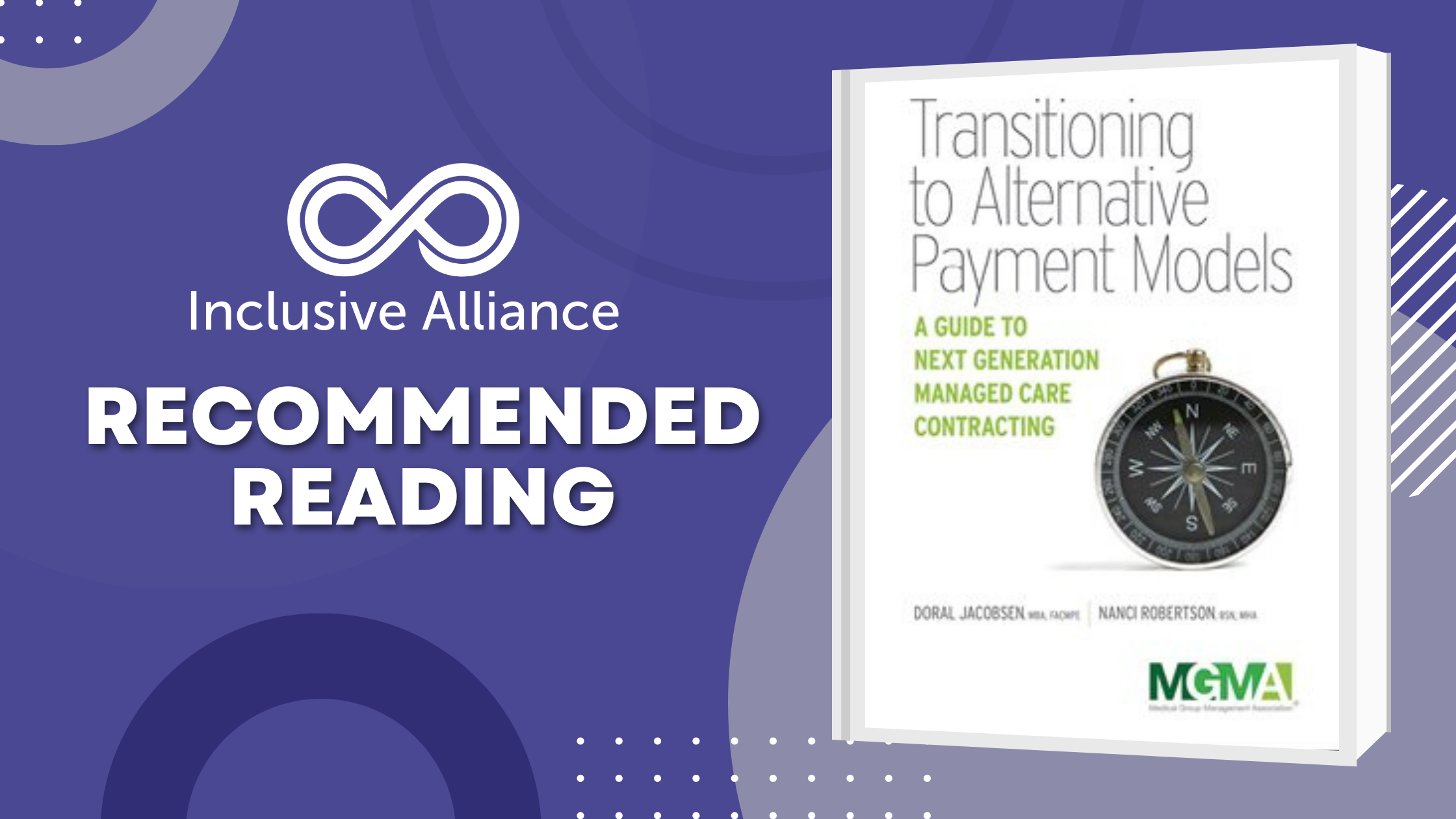 From time to time, we will share recommendations on books, training, and other resources to support our members through the ever-changing health care landscape. A recent conversation with one of our Network Members, Dan Kelley, Chief Operating Officer at Exceptional Family Resources, led to his recommendation for the book Transitioning to Alternative Payment Models: A Guide to Next Generation Managed Care Contracting. Dan shared how the book gave a clear picture of the payment models and enjoyed the broad approach covering the whole beginning to end of the payment models for your particular organizations/use cases.
As we help Inclusive Alliance Members transition to new payment models, we asked Dan to share his thoughts on the book and why this is a good read for those of us looking to learn more about navigating the shift from volume-based to value-based managed care contractual relationships. Keep reading to learn Dan's key takeaways from the book.
---
I recently completed reading a book that I am recommending to Inclusive Alliance members: "Transitioning to Alternative Payment Models," by Doral Jacobsen and Nanci Roberson. It's a great read if you are interested in negotiating and contracting with Managed Care Companies, especially around Alternative Payment Models. This book is the first resource on payment models that I have experienced that really gave me a peak at the contracting process from the practice management perspective (i.e. What should people like me do to assure that my agency is prepared to negotiate with managed care, armed with information, etc.).
What I like about this book is that it explains complex arrangements in lay person's terms. While it does use a lot of jargon, the authors explain the more technical terms in a very understandable way. The book gives a brief history on alternative payment models, the old HMOs, and the current climate.
The authors dedicate full chapters to arrangements such as Pay for Performance, Bundled Payments, Shared Savings, Shared Risk, and Global Payments. Each chapter provides key attributes, fundamental drivers, Negotiation Considerations, and lists considerations and practice goals to adopt while approaching partnerships around Alternative Payment Models. Other topics addressed are Quality Metrics, IPAs (Narrow Networks) and supporting negotiations with research, including basic approach to research and even some data resources.
I found the book on Amazon and read it on my Kindle App. The book is well worth the investment.
---