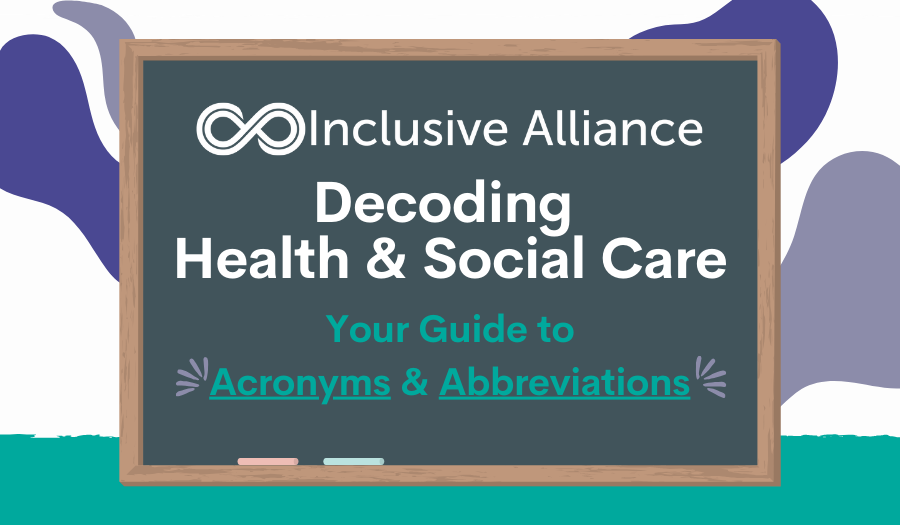 Understanding the world of health and social care can often feel like exploring a complex labyrinth of terms and acronyms. That's why we've put together this glossary you can reference to navigate the jargon.
#
1115 Waiver - Section 1115 of the Social Security Act that gives the Secretary of Health and Human Services authority to approve experimental, pilot, or demonstration projects that are found by the Secretary to be likely to assist in promoting the objectives of the Medicaid program. The purpose of these demonstrations, which give states additional flexibility to design and improve their programs, is to demonstrate and evaluate state-specific policy approaches to better serving Medicaid populations.

A
Adverse Childhood Events/Experiences (ACE)- potentially traumatic events that occur in childhood. ACEs can include violence, abuse, and growing up in a family with mental health or substance use problems.
Accountable Care Organization (ACO) - an organization comprised of clinically integrated independent health care providers that work together to provide, manage, and coordinate health care (including primary care) for a defined population; with a mechanism for shared governance; the ability to negotiate, receive, and distribute payments; and to be accountable for the quality, cost, and delivery of health care to the ACO's patients; and has been issued a certificate of authority.
Accountable Health Communities (AHC) - a model designed to promote clinical-community collaboration through screening, referrals, service navigation, and alignment to ensure a community's needs are identified and addressed.
Area Health Education Center (AHEC)- nonprofit organizations strategically located within designated regions where health care and health care education needs are not adequately met. AHEC works within its region to make health care education locally available (including residency and student rotations), on the premise that healthcare workers are likely to remain in an area where they train.
C
Community Based Organization (CBO) - any not-for-profit organization incorporated for the purpose of providing services or other assistance to economically or socially disadvantaged persons within its designated community.
Certified Community Behavioral Health Clinic (CCBHC)- a clinical model is designed to ensure access to coordinated comprehensive behavioral health care. CCBHCs are required to serve anyone who requests care for mental health or substance use, regardless of their ability to pay, place of residence, or age - including developmentally appropriate care for children and youth.
Community Care Hub (CCH) - a community-centered entity that organizes and supports a network of community-based organizations providing services to address health-related social needs.
Community Health Worker (CHW) - a frontline public health worker who is a trusted member, or has a particularly good understanding, of the community served. A CHW serves as a liaison between health and social services and the community to facilitate access to services and to improve the quality and cultural competence of service delivery.
Community Information Exchange (CIE) - a network of partners using technology to connect people to the services and supports they need. CIEs are care coordination tools that bring together providers and data from the health and social services sector. Partners may include human and social service, healthcare, and other organizations.
Centers for Medicare & Medicaid Services (CMS) - the federal agency within the United States Department of Health and Human Services (HHS) that administers the Medicare program and works in partnership with state governments to administer Medicaid, the Children's Health Insurance Program (CHIP), and health insurance portability standards.
Continuum of Care (CoC) - a community-wide planning approach to promote the goal of ending homelessness. As designated by the U.S. Department of Housing and Urban Development (HUD), a CoC provides the basis for communities to plan for and provide housing resources to address the needs of homeless families and individuals in the community.
D
Department of Corrections and Community Supervision (DoCCS) - the department of the New York State government that maintains the state prisons and parole system.
E
Empire State Supportive Housing Initiative (ESSHI) - an inter-agency program that provides funding and services for supportive housing across New York State. This program's goal is to develop more than 6,000 units of supportive housing for persons identifies as homeless with special needs, conditions, or other life challenges. Funding under this program is used to maintain supportive housing units, assist clients in remaining stably housed, and to provide case management and other supportive services.
Enhanced Transitional Housing Initiative - a multi–agency initiative to provide service and operating funding aimed at creating or preserving over 100,000 affordable, and 6,000 supportive housing units.
F
Fee For Service (FFS) -a payment model where service providers charge separately for each service they perform.
Federally Qualified Health Center (FQHC) - a federally funded nonprofit health center or clinic that serves medically underserved areas and populations. Federally qualified health centers provide primary care services regardless of your ability to pay. Services are provided on a sliding scale fee based on individuals' ability to pay.
G
Global Payment Model - - a prospectively determined payment made to a group of providers or a health care system that covers most, or all, of a patient's care during a specified time period.
H
Homes and Community Renewal (HCR) -Division of NYS government that preserves and protects affordable housing and invests in economically vibrant communities. They work with many private, public and nonprofit partners to create safe, healthy and affordable housing opportunities for all New Yorkers.
Health Equity - Relates to achieving the highest level of health for all people and shall entail focused efforts to address avoidable inequalities by equalizing conditions for health for those who have experienced injustices, socioeconomic disadvantages, and systemic disadvantages. Health equity is about addressing the needs experienced by individuals and communities.
Health Equity Regional Organization (HERO) - a Hub, made up of Regional, mission-based organizations composed of a coalition of stakeholders that will undertake regional collaboration, coordination, and decision making to inform future advanced VBP arrangements targeted at health equity.
Health Information Exchange (HIE) -a technology that allows healthcare providers and organizations to share patient information electronically between systems that would otherwise not be connected. HIEs can be thought of as a data clearinghouse among many clinical systems. HIEs enable doctors, nurses, pharmacists, and other healthcare providers and patients to securely access and share a patient's vital medical information electronically. This can improve the speed, quality, safety, and cost of patient care.
Health Related Social Care Network (HRSCN)- a formal network of CBOs that deliver health and social services that address underlying social care needs which impact health outcomes. See HRSCN/Health Related Social Care Network.
Health-related Social Needs (HRSN) - an individual's unmet, adverse social conditions (e.g., housing instability, homelessness, nutrition insecurity) that contribute to poor health and are a result of underlying social determinants of health (conditions in which people are born, grow, work, and age). See also - Social Determinants of Health (SDoH)
I
Intellectual/Developmental Disabilities (I/DD) - differences that are usually present at birth and that uniquely affect the trajectory of the individual's physical, intellectual, and/or emotional development. Many of these conditions affect multiple body parts or systems.
Independent Provider Association (IPA) - an association of independent social/healthcare organizations that contracts with independent care delivery organizations and provides services to managed care organizations on a negotiated per capita rate, flat retainer fee, or negotiated fee-for-service basis.
L
Long-Term Care (LTC) - a variety of services designed to meet a person's health or personal care needs during a short or long period of time. These services help people live as independently and safely as possible when they can no longer perform everyday activities on their own.
Long-Term Services and Supports (LTSS) - A person-driven long-term support system in which people with disabilities and chronic conditions have choice, control and access to a full array of quality services that assure optimal outcomes, such as independence, health and quality of life.
M
Medication-Assisted Treatment (MAT) - a "whole-patient" approach to treating substance use disorders. It uses medications in combination with counseling and other therapeutic techniques, such as behavioral therapies, to support individual treatment goals. MAT can be effective in treating opioid use disorders (OUD) and can help some people sustain recovery.
Managed Care Organization (MCO) - a health insurance company that is contracted by the state Medicaid agency to provide Medicaid benefits for beneficiaries through a network of provider organizations that bill the MCO for the services they provide (FFS) or that are paid through value-based payment (VBP) arrangements.

Medicaid - a state–federal partnership jointly funded by the states and federal government and administered by the states according to federal requirements to assist states in providing medical care to eligible people. Within broad federal guidelines, each state establishes its own eligibility standards; determines the type, amount, duration, and scope of services; sets the rate of payment for services; and administers its own program.
Medicare - federal health insurance for people 65 or older, and some people under 65 with certain disabilities or conditions.
Medicaid Redesign Team (MRT) -a state entity charged with innovating and planning the future of Medicaid service and reimbursement.
N
New York Health Equity Reform (NYHER) - NYS's application to CMS to amend its current Medicaid 1115 Waiver
O
Office of Addiction Services and Supports (OASAS) - the single designated state agency responsible for the coordination of state-federal relations in the area of addiction services in New York State.
Office for People with Developmental Disabilities (OPWDD) - the single designated state agency responsible for the coordination of state-federal relations in the area of services for individuals with intellectual and/or developmental disabilities in New York State.
Office of Mental Health (OMH) - the single designated state agency responsible for the coordination of state-federal relations in the area of mental health services and supports in New York State.
P
Patient Centered Medical Home (PCMH) - a model for organizing patient centered primary care that encompasses comprehensive care, care coordination, and accessible services with a commitment to quality & safety.
Potentially Preventable Admission (PPA) - a hospital admission that could have been prevented or treated outside of a hospital setting. These admissions can include acute illnesses, such as dehydration, or worsening chronic conditions, such as diabetes. They can also result from hospital or ambulatory care inefficiency, lack of access to outpatient care, or inadequate coordination of ambulatory care services.
Potentially Preventable Readmission (PPR) - a readmission within a specified time interval that is determined to be clinically related to a previous admission and potentially preventable.
R
Regional Health Information Organization (RHIO) - organizations formed and operated to facilitate the exchange of electronic health records among hospitals, physicians, and others in the health care system.
Return on Investment (ROI) - a Key Performance Indicator (KPI) used to gauge the profitability of an investment: ROI = (PROFIT-COST)/COST
S
Social Care Needs (SCN) - needs dealing with the activities of daily living: housing instability, food insecurity, transportation, interpersonal safety, toxic stress, health literacy/education, and/or economic instability
Social Determinant/Driver of Health (SDOH) - life-enhancing resources, such as availability of healthful foods, quality housing, economic opportunity, social relationships, transportation, education, and health care, whose distribution across populations effectively determines the length and quality of life. The social determinants of health are the circumstances in which people are born, grow up, live, work, and age, as well as the systems put in place to deal with illness (World Health Organization, 2012). Social determinants of health include: poverty; environmental threats; inadequate access to health care; individual and behavioral factors; and educational inequalities. Social determinants of health are influenced by a wider set of forces including economics, social policies, and politics.
Social Determinant of Health Network (SDHN) - See HRSCN/Health Related Social Care Network.
Statewide Health Information Network for New York (SHIN-NY) - an IT platform that connects the state's nonprofit regional health information organizations to ensure the secure electronic flow of health information throughout New York.
Severe Mental Illness (SMI) - a diagnosable mental, behavioral, or emotional disorder that causes serious functional impairment that substantially interferes with or limits one or more major life activities. Examples can include bipolar disorder, major depressive disorder, schizophrenia, and schizoaffective disorder.
Skilled Nursing Facility (SNF) - entities licensed and regulated by NYSDOH to provide nursing and therapy care that can only be safely and effectively performed by, or under the supervision of, professionals or technical personnel.
Substance Use Disorder (SUD) - the recurrent use of alcohol and/or substances that causes clinically significant impairment, including health problems, disability, and failure to meet major responsibilities at work, school, or home.
System of Care (SoC) - This framework is a coordinated network of community‐based services and supports that is organized to meet the physical, mental, social, emotional, educational, and developmental needs of children and their families across NYS.
T
Telehealth/Telemedicine - a method of healthcare delivery that allows for provider care without an in-person office visit. Telehealth/medicine appointments are traditionally done using a computer, smartphone, or tablet and can be done in the patient's home or at a community space setup with the necessary technology and privacy.
Transitional Housing - temporary housing with supportive services to individuals and families experiencing homelessness with the goal of interim stability and support to successfully move to and maintain permanent housing. Transitional housing programs can cover housing costs and accompanying supportive services for program participants for up to 24 months.
V
Value Based Payment (VBP) -In contrast to traditional fee-for-service payment models that are based on the number of services provided, value-based payment models reimburse providers based on achievement of quality goals and, in some cases, rewards providers through shared cost savings.
In the dynamic world of healthcare, staying well-informed about crucial terms and concepts is paramount. Navigating the complexities of healthcare might seem overwhelming, but with this newfound knowledge. Stay updated and empowered as we unravel the intricacies of the healthcare landscape together!